Leathersmithe sandals are made of vegetable tanned bridle cowhide and require special care in order to assure their long life.  Hang your sandals up off the floor during the winter in a dry, temperate location to avoid mold.  They have been prepared with saddle soap and dubbin rubbed into all surfaces three times during their construction and final fitting. This is necessary because the traditional stabilizing tanning process that makes the leather malleable enough to conform to your foot's complex curves has removed fats and liquors from the hide that you must periodically replace.  You can do this only with saddle soap and dubbin. Never use "mink oil"; it will saturate and weaken the leather.
Most of the leather you'll encounter in this era is much more rapidly, cheaply, chrome-tanned, and while it is stable and doesn't require the use of saddle soap and dubbin, it will never have the rich, gracefully-aging colour nor accept an edge-burnish like bridle-quality oak- tanned cowhide.  As you break in your sandals the straps & insole mold to your feet and provide a custom-fit as no other material can.
Use a piece of coarse cloth (old denim, linen, or a 1" round horsehair shoe brush) to make a light lather with warm water in the saddle soap tin.  Rub this foamy lather over and into every surface on the top and edges of your sandals, especially transition points.  Straps should be saddle soaped and pulled back & forth in their channels, to loosen and clean them.  Slots for the straps are tight but will loosen with age.  The single long 3/8" strap will stretch, as will the broad arch strap, over the life of the sandals. 
When you are done, use a brush or cloth to rub off surplus foam and allow the sandals to dry for 15 minutes.  Then work dubbin into all the surfaces and the straps until there isn't any residue.  You can walk around in the sandals until they are dry (the quickest way to break in new sandals) or allow them to dry for a few hours before wearing them. While breaking in your sandals: don't tighten your straps more than I do at your fitting or you will suffer needlessly.  They will require a week or two of intermittent wear (walking in them) in order to fully break in. Some customers break them in the first day.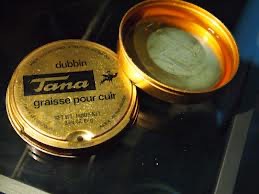 Your ten year guarantee for fit and finish requires that you periodically clean, saddle-soap and apply dubbin to your sandals. Rinse with fresh water if you step into a bog or wear them into the ocean.  I'll replace or refit any straps that break or stretch (and leather always stretches over time).  I can replace your half-soles and heels at your expense ($55 - $45 each), but if they are replaced by someone else, your guarantee is voided.
Repairs, Soles & Heels Replacement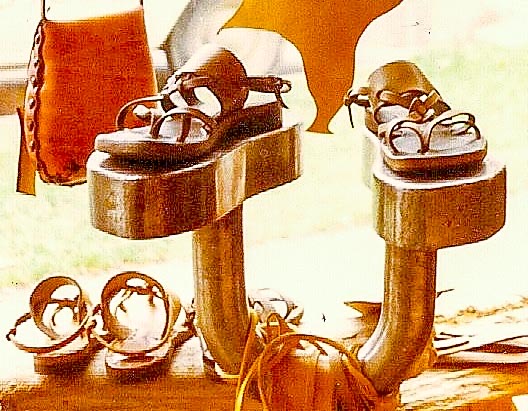 Bags and Pouches
Use saddle soap and dubbin on all surfaces and welt seams in order to restore drying calf, latigo and shoe leathers used for Leathersmithe saddle-stitched bags and pouches.  Your ten year guarantee covers stretched, broken straps & separations in the seams.  I'll restore them to usable condition.
The importance of saddle-soaping and dubbin & how to apply them
Tanning methods and the danger of using chromium-tanned leathers
Is leather just a by-product of the meat industry?