Piped edge
All Leathersmithe pouches are saddle-stitched with 4, 5 or 6 strand beeswaxed flax cord, back-stitched at the beginning and end for reinforcement.  Stitched deerskin piping binds the seams for an elegant finish. Guaranteed for life.
Finished with saddle soap, beeswax, hand-burnishing & a light coat of carnauba wax to bring out the leather's grain.  Fine leathers age gracefully and don't require vat dyeing or edge dressing. Bring your pouch back to life with regular use of saddle soap & dubbin.
Traveler's companion
Carry your passport and valuable papers close to your body in these elegant deerskin, glove cow and elk pouches.  In danger zones, wear them underneath your shirt - they won't irritate your skin.  The deerskin thong is replaceable and the pouches will last a lifetime.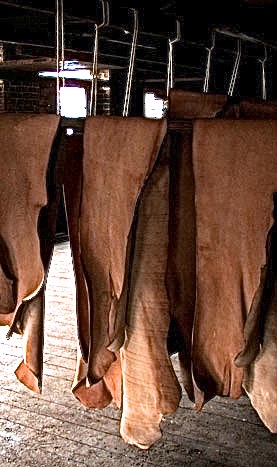 Cowhides hung to air-dry in tannery