Unique designs fit up to 1½" wide belts.  Most are made of legendary Poetsch & Peterson latigo and shoe leathers. They have durable saddle-stitched belt loops.  I use no finish or dye on these pouches, just saddle soap, dubbin & carnauba wax to bring out the grain. Fine vegetable-tanned leathers age gracefully and don't require dye or colouring. 
Bring your pouch back to life with regular use of saddle soap and dubbin.
All Leathersmithe pouches are saddle-stitched by hand with 4 & 5 strand beeswaxed flax cord, back-stitched at the beginning & end for reinforcement.  Most have a welt seam which is a third burnished & polished layer of harness leather that cushions & protects the cord from abrasion and prolongs the life of the pouch.  This adds about an hour to the construction time and produces a unique, finely-finished edge you won't see elsewhere.  Lightweight designs have a reversed saddle-stitched seam.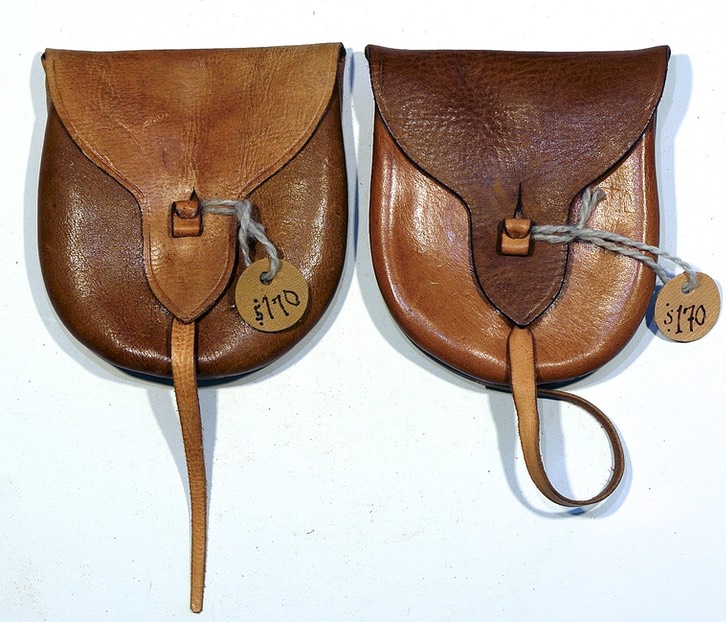 The importance of saddle-soaping and dubbin & how to apply them
Tanning methods and the danger of using chromium-tanned leathers
Is leather just a by-product of the meat industry?
The entire epidermal layer of your skin turns over every forty-eight days