Poetsch and Peterson, founded in 1883 in San Francisco, was the paramount west coast US tannery.  It closed in the early '90s because of California's strict new environmental laws.  I saved a stash of shoe leathers and latigo from my last buying trip there in 1984.  You can own a piece of San Francisco tannery history.
Because of the toxicity of post-tanning leather dyes, I use only a buffed finish coat of carnauba wax to bring out the grain.  Fine leathers age gracefully and don't require additional dye or colouring.  Keep your pouch flexible and youthful with regular use of saddle soap and dubbin.
Pouches and small bags on this page are made of calf and venerable P&P leathers to commemorate the long history of the official tannery of the Leathersmithe Guild.
Hand-sewed & finished
Leathersmithe pouches are saddle-stitched with 4 & 5 strand beeswaxed flax cord, back-stitched at the beginning and end for strength.  Most have a welt seam which is a narrow sewed-in strip of bridle leather that hides, cushions and protects the stitches from abrasion.  The welt is burnished flat, smooth, and produces a unique finishing touch.
"I wanted to take this opportunity to thank you for this amazing website! My name is Tom O'Rourke and I'm 65 years old and used many of the latigo tanneries that you mentioned on your website, the beautiful P&P leather that I made laced handbags from was truly a remarkable leather. Due to the fact of the hands stuffing of oils and waxes into the leather it provided a remarkable canvas for dying and creating those famous sunburst effects that only P&P leather had the depth in the grain to create. I trained under Don from Socrates leather, as well as other great craftsmen from California. Although most of my work followed the trends and traditions of the East Coast, the making of beautiful latigo bags was certainly an addicting process. I still have a few of the old ice pick latches that were famous on Socrates bags ever utilized on mine as well. 
Again, thank you for keeping the history and the traditions of what we did in the 60s 70s and 80s alive. 
Sincerely, Tom O'Rourke 
Note: after years of being away from the leather business I am now back designing wallets and small leather goods, and teaching small workshops and startup factories in India the ability to create craftsmen quality products.  I guess you can say I have gone full circle!!!! Again thank you for this most pleasant evening of studying and reviewing your site."   3/2017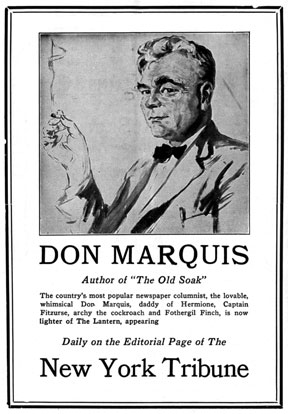 Famed author of Archie & Mehitabel
The importance of saddle-soaping and dubbin & how to apply them
Tanning methods and the danger of using chromium-tanned leathers