by Gudrun Will in the Georgia Straight on Apr 21, 2005 at 10 am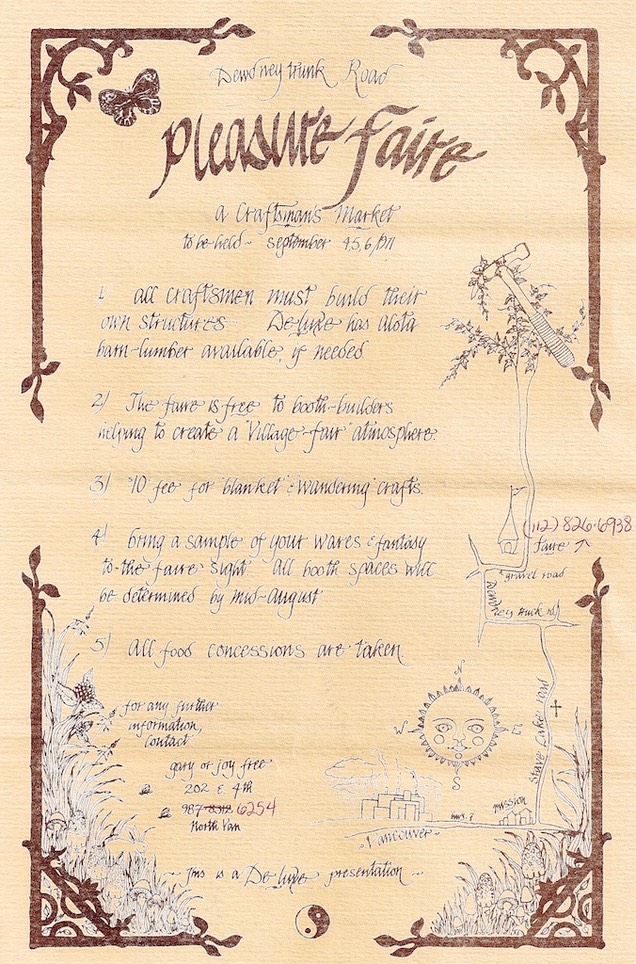 In the summer of 1967, Vancouver was the hippie capital of Canada. Bell-bottomed long-hairs tuned in, turned on, and dropped out in Kitsilano's pre-gentrified heritage houses, leafed through newly minted alternative mouthpiece the Georgia Straight, and grooved at the West End's Retinal Circus and the Afterthought nightclub on Love Street (West 4th). In between the Stanley Park Be-In, the Grasstown Smoke-In, and happenings like the Dewdney Trunk Road Pleasure Faire, they supported idealistic causes such as the environment, peace, and women's lib.
Hippies may sometimes be dismissed as deadbeats who did little more than drop acid, but their penchant for activism infected the mainstream and shaped the city we know today, says Joan Seidl, curator of history at the Vancouver Museum.  Parting bead and macramé curtains, she leads a tour through the institution's latest long-term exhibit about Vancouver's recent past, which opened last week.  Titled You Say You Want a Revolution, it chronicles the decade from the mid-'60s to the mid-'70s, when locals learned to speak up for their interests.
We interpret this as a time when Vancouver found its voice, or its voices," Seidl says.  "It's not just the real hard-core types who are protesting. There are society matrons marching on behalf of Stop the Freeway and university students calling for free speech.  In the city's culture, this really falls out in terms of the political process."
Elected in 1972, young civic politicians from the TEAM slate such as Mike Harcourt and Darlene Marzari started a tradition of public consultation that the city, Seidl believes, still makes an honest effort to honour.  And although most hippie hangouts have disappeared, Vancouver still boasts popular community legacies spawned back then, such as the housing along False Creek's south shore, Granville Island, the folk and children's festivals, and, most significantly, our city-defining lack of a waterfront-obliterating freeway.
Kicking off with a forest of protest signs, the exhibit brings back the era's tastes with poetry by bp nichol and a listening panel of greatest hits by Mock Duck and Seeds of Time.  A re-created hippie pad evokes a typical floor of a dilapidated Arts and Crafts-style home, decorated with psychedelic posters, Sally Ann furniture, and a closet full of authentic knit, patched, and embroidered duds.  Further on, a replica of Greenpeace's first tattered, handmade flag (the original is in the city archives) hangs over a recruitment table, while other displays document the near-destruction of Strathcona by the freeway and various development proposals.
After finding that the museum had only three pieces of jewellery to represent the entire decade, Seidl put out a public call for artifacts last year.  The many donors included one-time founders of Cool Aid, a social-services outfit that helped feed, house, medically treat, and employ the hordes of youth who arrived from all over to buck convention.  Seidl gathered enough quality items to also put away a core collection in the museum's basement.  The hardest thing to find was an intact dial pack of birth-control pills now on display, and she's still looking for the legendary peace-symbol roach clip.
Seidl also compiled a scrapbook for the exhibit, documenting the personal stories of five locals who lived through those heady times.  "I was really pleased to work with people who not only have the stuff but whose memories of how they got it and where they wore it are fully intact and rich with detail," she says, sounding a bit nostalgic.  "I guess what the hippies gave us was the idea that we could question authority and that it was possible to create deep, vast change.  Some of it foundered on the rocks of reality, and aging, and having kids, and all those reality checks.  I still find the energy and optimism of it-the drive-incredibly appealing."