.

George Barnsley and Sons Ltd. (founded 1836) were in Cornish Place on the Don and specialized in forged filing and cutting tools for leather workers and shoe makers.  George Barnsley was Master Cutler in 1883.
George Barnsley and Sons is listed in the 1837 Sheffield Directory as a file manufacture situated on Wheeldon Street.  The 1849 listing records a move to Cornhill and in 1852 to Cornesh works, Cornesh street.  They had by this time also increased their product range to include steel files, shoe and butchers knives.
They are again listed in 1944 as manufactures of files and blades, shoe knives and leather workers tools.
In the 1948 listing the business had become George Barnsley and Son Ltd.  Their factory closed in 2004.
George Barnsley died at his home at No 30 Collegiate Crescent in 1958.  He lived there with his wife Mabel and mother-in-law Elizabeth. The business was converted into a limited company about 10 years before his death.  He had a long army career, joining in 1896 and serving in the Boer war and two world wars.  Colonel Barnsley played a leading part in the development of the Army Cadet Force in Sheffield.  He died at the age of 83.
In the autumn of 1971 I spent a wet & gloomy Sheffield morning with the remaining family management of Barnsley & Sons taking tea, purchasing a full complement of their inimitable tools: shears, round, bag and revolving steel punches, divider, strap cutter, mallet, knives, edgers, and touring the factory, now empty and deserted (see links to photos of the remains of factory).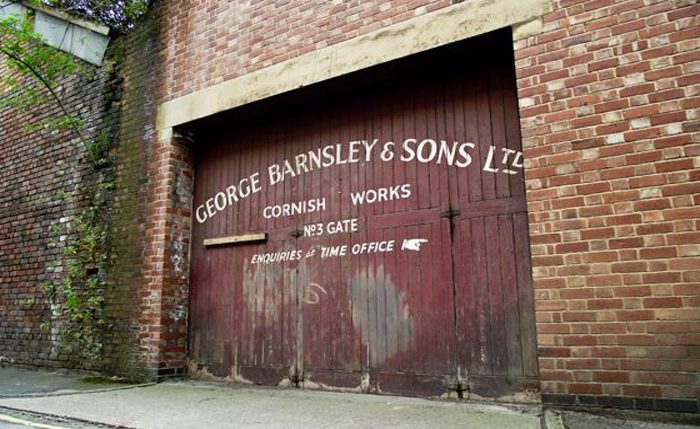 http://www.whateversleft.co.uk/industrial/george-barnsley-sons-sheffield
https://jeffpeachey.com/tag/george-barnsley-and-sons/m/tag/george-barnsley-and-sons/
https://projectsheffield.wordpress.com/2010/06/28/george-barnsley-and-sons-ltd-founded-1836-sheffield-2010/
Some of the George Barnsley saddlers, shoemaker and leatherworker tools are still available from gandmtools  here http://www.gandmtools.co.uk/product-category/saddlers-shoemakers-leatherwork-tools-trade-knives/